The ONE'S KNIFE takes on a uniquely designed shape, that has gives way to using this knife for various purposes, from general cutting of not just vegetables, but also meat and fish, to crushing of vegetables such as garlic, or the smashing of asparagus. A large difference with other knifes is that that the width of the tip is larger than that of conventional knives which normally tapers towards the tip. For that reason we have also researched into giving the best balance in relation to the size and functions of the blade.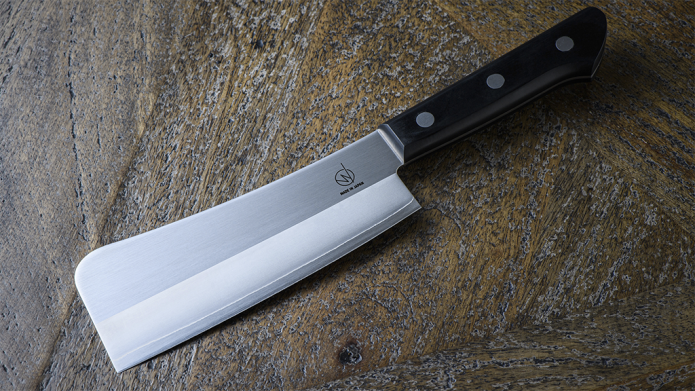 As the width of the end of the blade is larger than other knives, we have also needed to research and look into balancing the knife to fit this size. We have been able to create a blade that even without putting power into it, can cut easily allowing for you to keep the perfect chopping rhythm. The height of the blade also allows you to cut larger vegetables such as cabbage or lettuce or pumpkin with ease.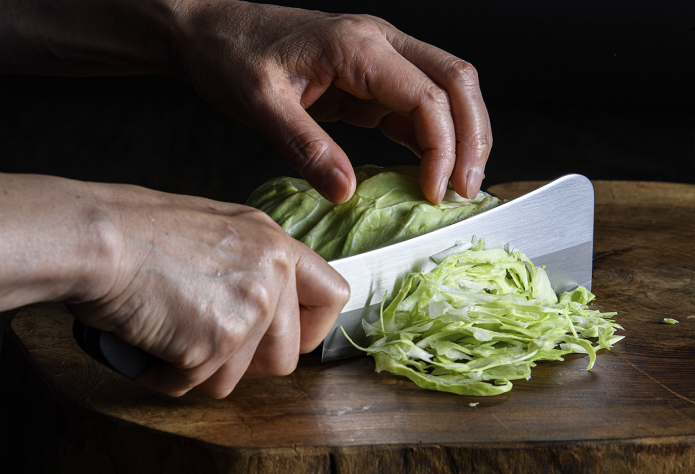 As the end of the knife is flatter and wider that other knives, it is rather easy to use the blade to transfer the ingredients you just cut to a plate or pan!
For those really hard to cut root vegetables, it can be hard to get through with even the sharpest knife, no matter how much power you try to put into the handle. We've thought about this and have created a balled spine, that fits in the palm and lets you transfer the power at the top of the knife, allowing for a easier cut.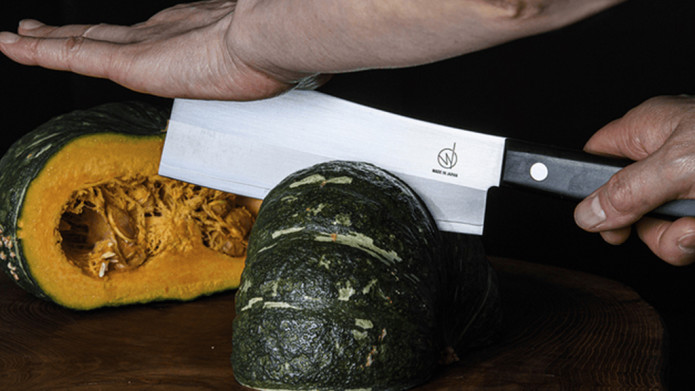 The ONE'S KNIFE was created with use at home being the ideal situation. It allows the general home-chef to get their way through any situation that is normally found when cooking and is easy to use for any cook! It is wider than normal chefs knives that gives an extra benefit of being safer for the general user.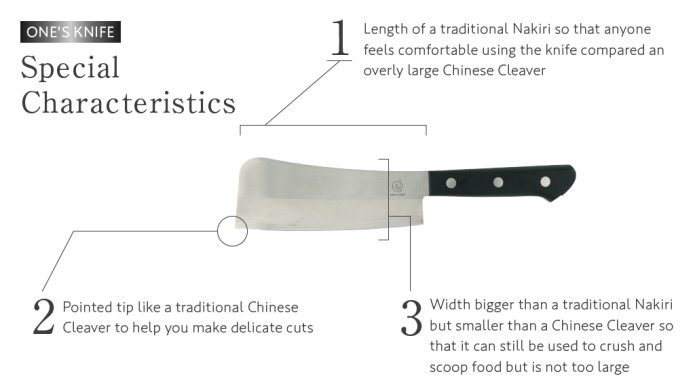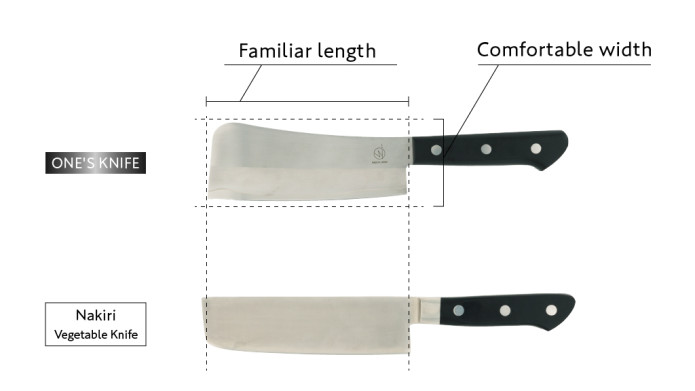 Chefs that cook Chinese cuisine, said to be in the top three popular cuisines in the world, use Chinese knives that have a lot of functionality and gives them an edge over other knives.
The knives have a large width, allowing them to cut vegetables easily, from top to bottom with no problems, as well as cut meat, fish, and vegetables with no power necessary.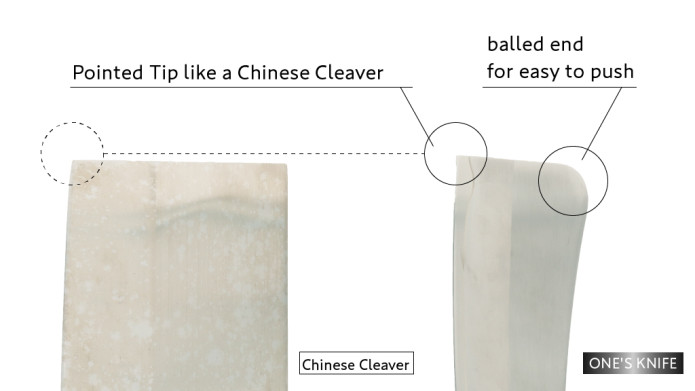 But many Chinese cleavers are extremely large and heavy, meaning that they aren't so great to have in a home environment.
For some, this size puts people off this extremely popular, functional knife. So by taking all the great characteristics of a Chinese cleaver and blending it with another popular vegetable cutting knife, the Japanese Nakiri, we hopefully have created a knife that is amazingly easy to use at home.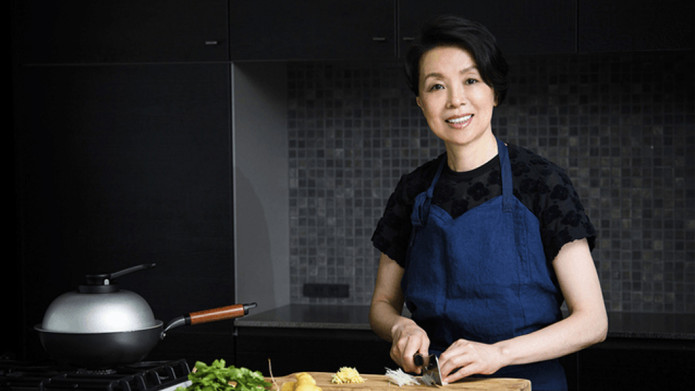 In order to do so, we consulted with Wu Wen, a Chinese Home Culinary Expert that hails from China, and has lived in Japan since 1990. She specialises in Chinese Home Cooking and looks to introduce not only cooking techniques but also looks to invite people to learn about Chinese culture, and make a bridge between Japan and China.
She has worked to bring Chinese cuisine to the forefront of Japanese peoples' minds, and has authored a variety of cookbooks in order to help Japanese people understand the cuisine even more.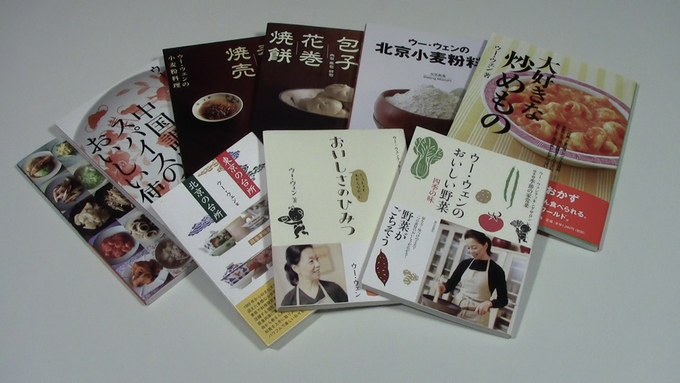 A collection of books that Wu Wen has authored

Look at the juices flow as we cut through this delectable meat!
This knife isn't just great for vegetables and fruit, you can also use it to great effect on a variety of meats and fish, cooked or uncooked. It can always be a nuisance when you have to use multiple utensils when cooking, but with this knife, you can buy one of those juicy looking pieces of meat and cut it along with the rest of your ingredients. 
Succulent meat ready to be cooked to perfection!
Mince, cut, and dice with this incredibly useful tool.
This means that you only need to reach for one knife when chopping both meat and vegetables. Why not choose this blade and recreate a traditional Japanese dish , all with one knife perfect for cutting all the necessary ingredients.

Chinese cleavers have a great hidden ability to them, the ability to smash vegetables.
With the ONE'S KNIFE being a wide bladed knife, it also lends itself to doing this as well! As well as having a big width, the manufacturing process of the knife also helps with durability for smashing that veg!
By using it on harder stemmed vegetables such as asparagus or burdock, or even on things like garlic, you can unlock the hidden potential of these vegetables. Asparagus that has been smashed like this, allows for the vegetable to have flavours soak in easily!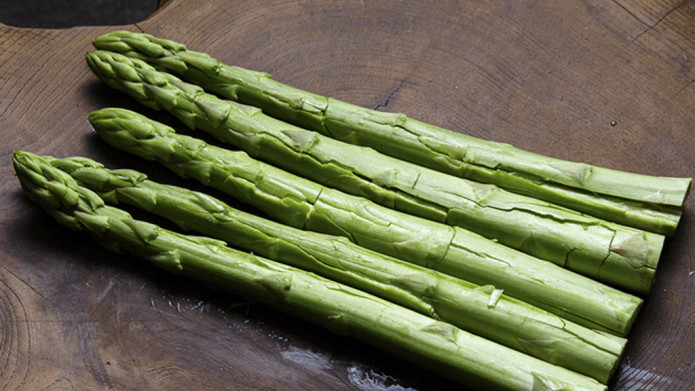 This tip comes in handy especially when trying to cut delicately or intricately. A normal Nakiri is rounded at the tip and while a Chinese Cleaver has a sharp tip, its large width size makes it hard to make these precise cuts.
This means that when it comes to cooking dishes that require special delicate cuts, it is always up to the task.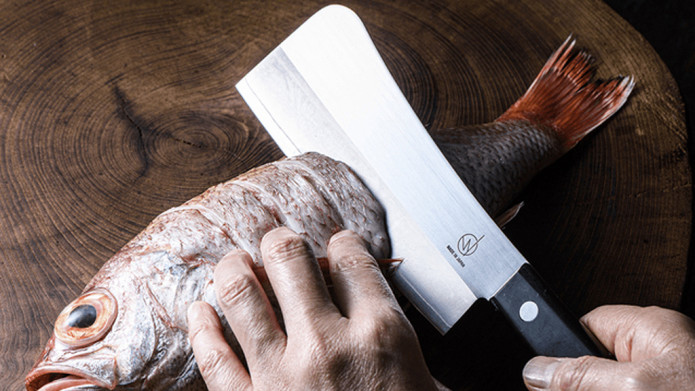 The core of the knife is a hard cobalt steel alloy, that allows it to cut perfectly into ingredients. Due to the shape of the blade itself, ingredients don't stick to it as it cuts through and looking at the cross-section of the blade you can see why, with it having a distinct, clam-like shape.
The hard cobalt steel alloy gives it a lasting quality and excellent sharpness. The outer layer of the knife is a 13 Chrome Stainless Steel which allows for durability, rust resistance and makes it hard to break.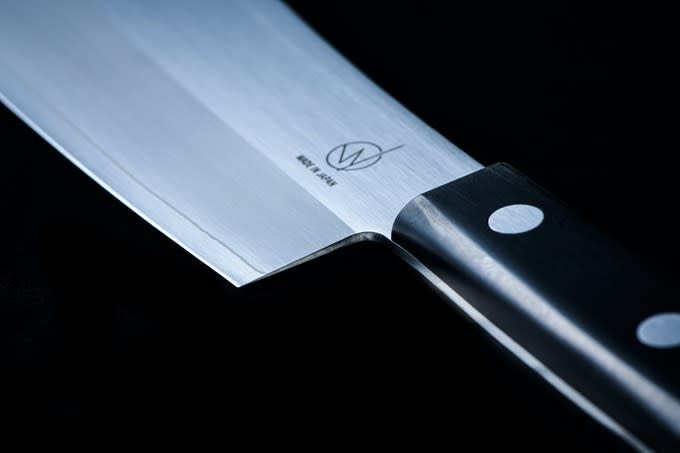 <A material that will keep its sharpness and is resistant to rust>
Due to the cobalt steel alloy found in the middle of the blade, it is extremely resistant to rusting and has an amazing sharpness to it. 
Damascus knives, known also to be high quality knives, also uses this as a core material, due to the reliability of the material. 
For those that want to have, and keep, a sharp knife, this cobalt steel alloy is a must!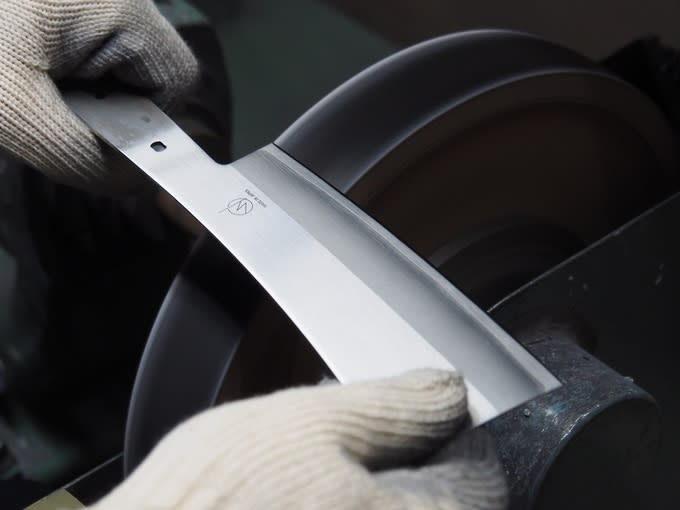 <The secret behind the sharpness>
The hard core is highly concentrated with carbon which helps to increase its hardness, as well as giving it a resistance against wear and tear. This means that the sharpness is there to last. 
What's more, the sides of the knife is a flexible stainless steel enclosing this hard centre, making this knife even more harder and persistent.
Finally the forged core has been created so that the structure of the metal and the durability is lengthened.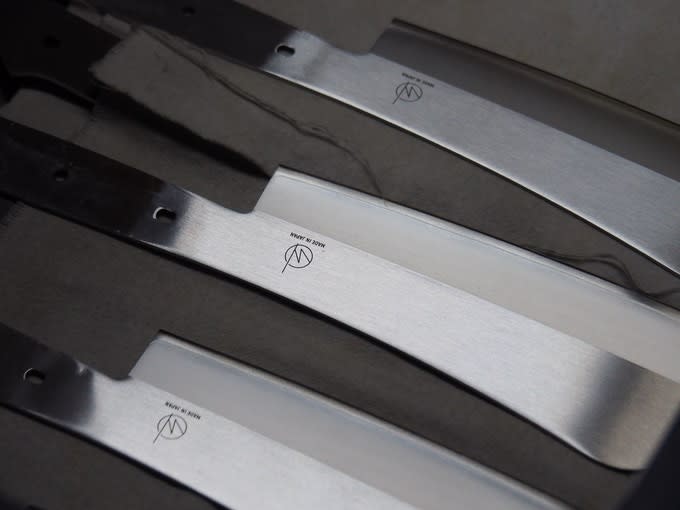 <Use of cobalt>
During the forging process of steel, carbon is lost, so cobalt is used to keep this lose to a minimum. 
By doing so, the steel can be forged to be of the highest quality. 
<Specifications>
[Knife] Cobalt Steel Alloy core with layered 13 Chrome Stainless Steel outer lining.
[Handle] Reinforced laminate
[Knife Edge] Double- edged (Usable for both left and right handed users)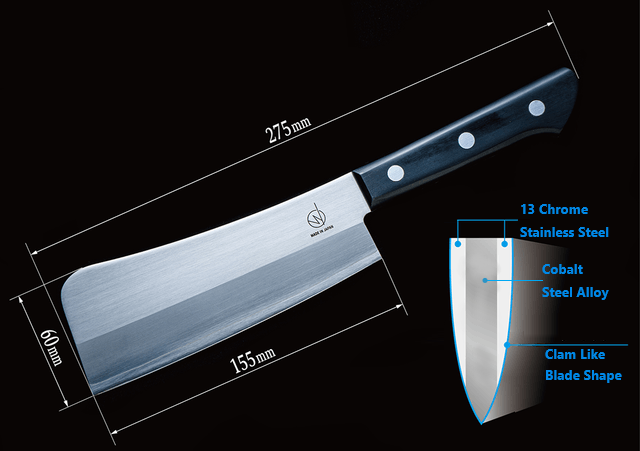 The ONE'S KNIFE is a great knife to have at home, and will be something you will reach for automatically when you go to cut after using it once.
This blended knife mixing the best parts of a Japanese Nakiri and Chinese Cleaver is a great blade for any home that loves to cook, or even those that just need a multipurpose blade!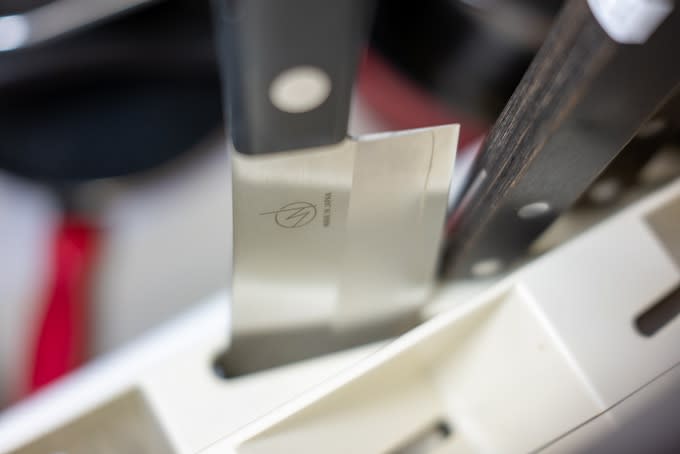 We're offering the ONE'S KNIFE at 3 different discount levels, with 2 separate delivery dates due to the time it takes to manufacture. The first wave of orders will be sent in October 2021, with the second wave being sent in November 2021.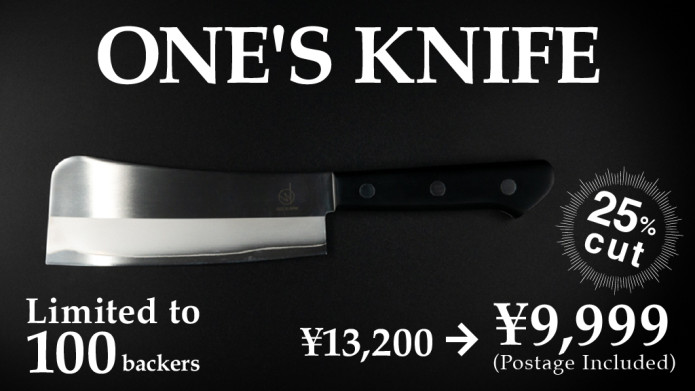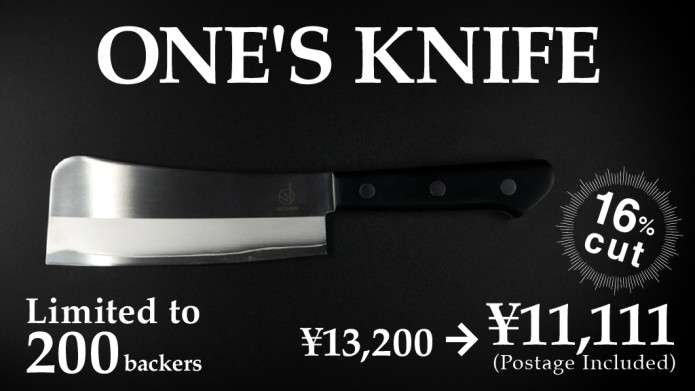 Hokuriku Aluminium is an aluminium product manufacturer that has been running for the past 90 years or so, with it having its origins in producing cooking utensils. Since 1930, they have been producing high-quality aluminium cooking utensils, building materials and furniture etc., in the famous metalworking town of Takaoka in Toyama Prefecture.

In December 2018, Hokuriku Aluminium was chosen as a regional future leader, by the Ministry of Economy, Trade and Industry of Japan.
A regional future leader is selected on the virtue of being a company that creates products of high quality that also encompasses the characteristics of the region and helps to create an economic boom for the local economy.